Pet door installations suited from the shortest to tallest furry friend.
As pet lovers, owners and trade qualified tradesmen and woman Aussie Pet Doors are Melbourne's Pet Door Installation Specialists. We install cat and dog doors for your furry family members Melbourne wide and far into Glass Windows, Glass Doors, Security Screen Doors and Timber Door installations. Please see the online store tab on our website if you wish to purchase a door directly for DIY installation or for trade inquiries which we would be more than happy to assist with. Most of the pet doors seen here are available for installation and we look forward to assisting you and your furry friend's further. We have many glaziers, frame manufacturers and sub contractors who purchase directly from Aussie Pet Doors that we can refer you to for Australia Wide installations, please call 1300 558 577 or submit an online inquiry for your free no obligation installation quote or referral today. Our aim to provide an experienced, efficient, friendly service in a timely manner at a competitive price.
Please see the Reviews tab to read about our hundreds of verified customer comments via independent review company WOMO (word of mouth online), surely this many very satisfied customers can't be wrong! We feel our many years of expert installations allows us to best fit your kitty or K9's new pet door customising for the best ease of access and use. Unfortunately industry inexperience sees Aussie Pet Doors attending many incorrectly installed, wrongly positioned or sized pet doors which in the long turn can harm your pet so choosing Aussie Pet Doors offers you peace of mind with our years of experience which we pride ourselves in.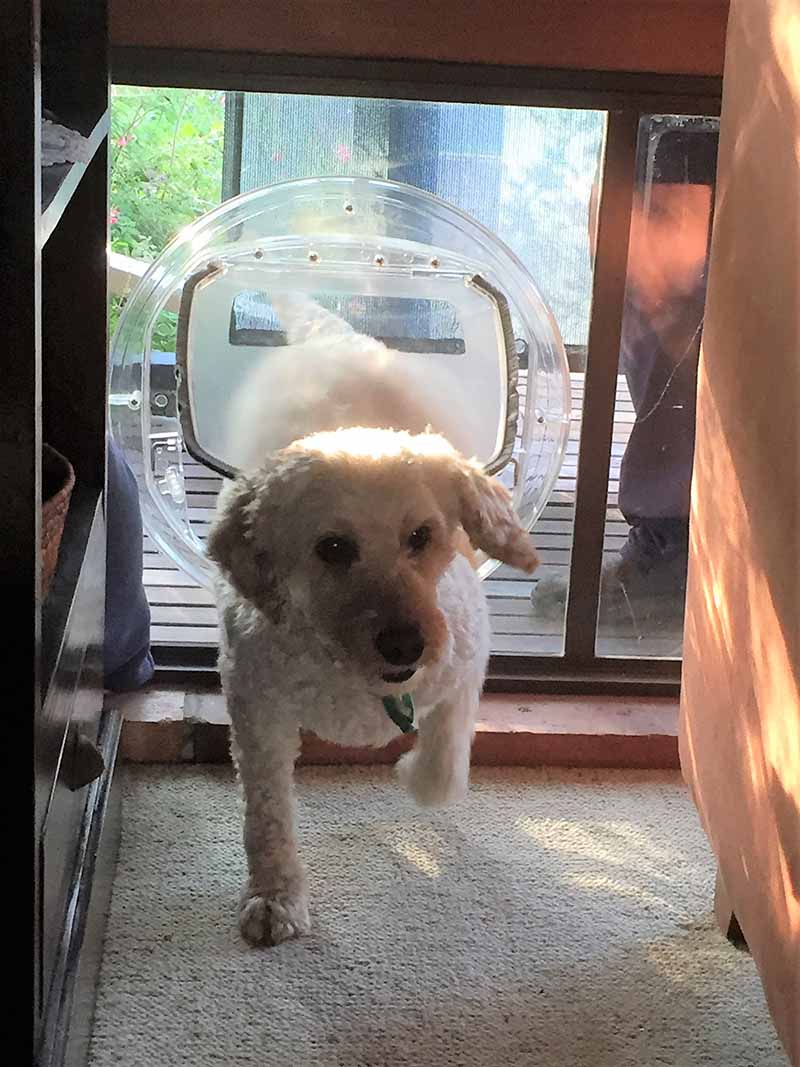 News flash there is no one size fits all brand or standard cat or dog door, we offer a tried and tested durable, quality and multi featured door range for cats, dogs, multi sized pet homes to suit almost every installation from our tiniest fur babies to the giant breeds upwards of 60kg. Aussie Pet Doors also stock the most comprehensive available range of microchip and passport intelligent doors to give greater control for single or multi pet homes and stop potential intruder animals if this is a concern you have. Please view some of our extensive range throughout the categories shown and feel free to ask our experts if you have any questions as we are only too happy to assist. We have all sorts of tips and tricks picked up over the years of experience which sees most pets using their new pet door before our installers have left your property. Some of the door flaps are easily removable for cleaning and training purposes, even the oldest most dubious senior soon grows to love the new found ease of access stoping nasty messes and odour in your home also helping to keep your senior more active.
Puppies and kittens are very eager to please and train so don't become a door person to your pet, have security concerns in leaving your door or window open, be woken throughout the night or wake up to unpleasant messes and have your new pet door expertly fitted by Aussie Pet Doors. Call 1300 558 577 for personalised assistance or submit your online inquiry to book your installation today.
Click into the below category which best suits your furry friends needs to view multiple pet doors within each category as we stock a large range.